VOICES of IMAHAI -gospel-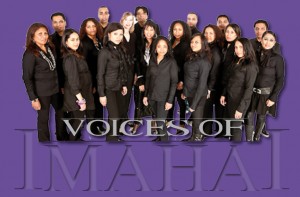 Is een Gospelgroep van 18 vocalisten en 4 bandleden en bestaat al vanaf 1 augustus 2009 …
Het is ontstaan tijdens het 30 jarige bestaan vd molukse wijk in vaassen (2009)
De naam Voices of Imahai betekent stemmen van het leven Imahai oftewel " het leven" het woord stamt af van de oorspronkelijke taal van het eiland Saparua in de Molukse archipel.
De groep wil meegeven ondanks de verschillen die er zijn met Gods hulp mogen en kunnen wij 1 zijn.
Optredens
Na de opening van het 30 jarige bestaan van de molukse woonwijk in Vaassen, volgde er een Gospelfestival (1e editie) en de allereerste festival in de Molukse protestant kerk (Musafir) Vaassen met Voices of Imahai ft Berget Lewis (2009)!
GospelChallenge Amsterdam (2009)
Vooronde: Amsterdam Zocultuur en de
Finale in de Bijlmermeer Theater
BZT show (NCRV) kerstshow (2009)
Ook wat inzegeningen gedaan op verzoek v mensen zoals bruiloft
Repertoire:
Op dit moment nummers van bekende gospel artiesten zoals:
Kirk Franklin
Israel Houghton "New Breed"
Coko (SWV)
Byron Cage
Ty Tribbett
The Clark Sisters
e.a …
info: voicesofimahai@gmail.com